Tutte le nomination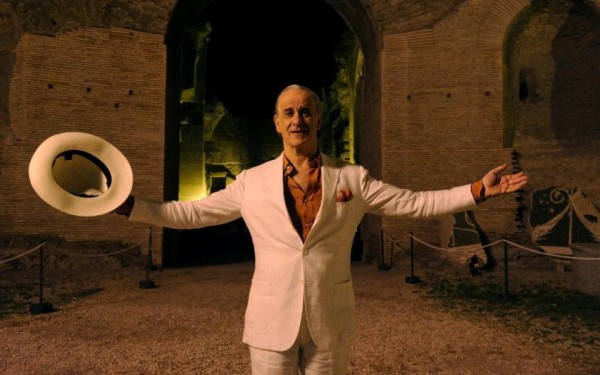 Dopo otto anni dall'ultima volta (con "La Bestia nel cuore"), un film italiano torna in corsa per l'Oscar come Miglior film straniero. Come previsto e sperato, nella cinquina entra "La Grande Bellezza" (già vincitore agli EFA, gli Oscar europei, e ai Golden Globe). Il film di Paolo Sorrentino dovrà vedersela con il belga "The Broken Circle Breakdown", il danese "The Hunt", il palestinese "Omar" e il cambogiano "The Missing Picture".
A raccogliere più candidature sono stati "American Hustle" e "Gravity" con 10 ciascuno,  "12 anni schiavo" (9), in lizza per il Miglior film assieme a "Dallas Buyers Club", "Nebraska" e  "Captain Phillips" (tutti con 6), "Her" e "The Wolf of Wall Street" (entrambi con 5) e "Philomena" (4).
A contendersi la statuetta per la Miglior regia sono David O.Russell per "American Hustle" (per il secondo anno consecutivo dopo "Il lato positivo"), Alfonso Cuarón per "Gravity", il già premio Oscar Martin Scorsese per "The Wolf of Wall Street", Alexander Payne per "Nebraska" e Steve McQueen per "12 years a slave".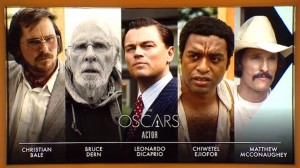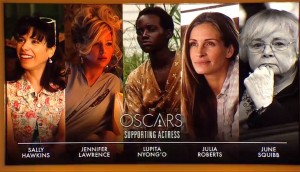 Nella cinquina per il Miglior attore Christian Bale, Leonardo DiCaprio (alla sua quarta candidatura), Chiwetel Ejiofor, Matthew McConaughey, Bruce Dern; non protagonisti Michael Fassbender, Bradley Cooper, Jonah Hill, Jared Leto e Barkhad Abdi.
Alla loro prima nomination per due degli attori più talentuosi del momento: Michael Fassbender e Matthew McConaughey.
Migliori attrici Amy Adams, Cate Blanchett, Judi Dench, Sandra Bullock e Meryl Streep (alla sua 18 candidatura!); tra le non protagoniste Julia Roberts, Sally Hawkins, June Squibb, Lupita Nyong'o e Jennifer Lawrence (lo scorso anno miglior attrice protagonista e alla sua terza nomination a soli 23 anni).
Per il Miglior film d'animazione la sfida è tra "I croods", "Cattivissimo Me 2", "Ernest e Celestine", "Frozen" e "Si alza il vento".
La cerimonia di premiazione si svolgerà domenica 2 Marzo a Los Angeles. A presentarla sarà, per la seconda volta, l'attrice comica Ellen DeGeneres.
Di seguito la lista completa delle nomination annunciate da Chris Hemsworth ("Thor" e "Rush") e il Presidente Cheryl Boone Isaacs.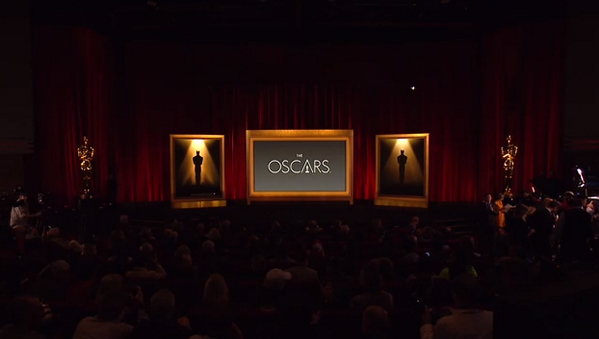 _______________________________________________________________________
OSCAR 2014
Tutte le nomination
_________________________________
MIGLIOR FILM
12 Anni Schiavo
Gravity

American Hustle
The Wolf of Wall Street

Captain Phillips
Nebraska
Dallas Buyers Club

Her

Philomena
 _________________________________
MIGLIOR REGIA
Alfonso Cuarón, Gravity

Steve McQueen, 12 Anni Schiavo

David O. Russell, American Hustle

Martin Scorsese, The Wolf of Wall Street
Alexander Payne, Nebraska
 _________________________________
MIGLIOR ATTORE PROTAGONISTA
Chiwetel Ejiofer (12 Anni Schiavo)
Matthew McConaughey (Dallas Buyers Club)

Bruce Dern (Nebraska)

Leonardo DiCaprio (The Wolf of Wall Street)
Christian Bale (American Hustle)
 _________________________________
MIGLIOR ATTRICE PROTAGONISTA
Cate Blanchett (Blue Jasmine)
Sandra Bullock (Gravity)

Amy Adams (American Hustle)
Judi Dench (Philomena)

Meryl Streep (August: Osage County)
 _________________________________
MIGLIOR ATTORE NON PROTAGONISTA
Jared Leto (Dallas Buyers Club)

Michael Fassbender (12 Anni Schiavo)

Bradley Cooper (American Hustle)
Barkhad Abdi (Captain Phillips)
Jonah Hill (The Wolf of Wall Street)
 _________________________________
MIGLIOR ATTRICE NON PROTAGONISTA
Lupita Nyong'o (12 Anni Schiavo)

Jennifer Lawrence (American Hustle)
June Squibb (Nebraska)

Sally Hawkins (Blue Jasmine)
Julia Roberts (August: Osage County)
 _________________________________
MIGLIOR SCENEGGIATURE ORIGINALE
David O. Russell & Eric Singer, American Hustle
Spike Jonze, Her

Bob Nelson, Nebraska
Woody Allen, Blue Jasmine
Craig Borten & Melisa Wallack, Dallas Buyers Club
_________________________________
MIGLIOR SCENEGGIATURE ADATTATA 
John Ridley, 12 Anni Schiavo
Terence Winter, The Wolf of Wall Street

Billy Ray, Captain Phillips
Julie Delpy, Ethan Hawke & Richard Linklater, Before Midnight
Steve Coogan & Jeff Pope, Philomena
_________________________________
MIGLIOR FILM IN LINGUA STRANIERA
Danimarca, "Il Sospetto," Thomas Vinterberg
Italia, "La Grande Bellezza" Paolo Sorrentino

Belgio, "The Broken Circle Breakdown," Felix van Groeningen
Palestina, "Omar," Hany Abu-Assad

Cambogia, "The Missing Picture," Rithy Panh
_________________________________
MIGLIOR FILM D'ANIMAZIONE
Frozen
The Wind Rises

Cattivissimo Me 2
Ernest & Celestine
I Croods
 _________________________________
MIGLIOR CANZONE ORIGINALE
"Let It Go" (Frozen, Robert Lopez & Kristen Anderson-Lopez)
"Ordinary Love" (Mandela: Long Walk To Freedom, U2)
"Sweeter Than Fiction"
"Happy" (Cattivissimo Me 2, Pharrell Williams)
"The Moon Song" (Her, Karen O)
"Alone yet not Alone" (Alone yet not alone, Bruce Broughton)
 _________________________________
COLONNA SONORA ORIGINALE
Steven Price, Gravity
William Butler, Her
Alexandre Desplat, Philomena
John Williams, The Book Thief

Thomas Newman, Saving Mr. Banks
 _________________________________
MIGLIORI COSTUMI

Michael Wilkinson, American Hustle
William Chang Suk Ping, The Grandmaster
Catherine Martin, Il Grande Gatsby
Patricia Norris, 12 Anni Schiavo
Michael O'Connor, The Invisible Woman
 _________________________________
MIGLIOR MONTAGGIO
Alfonso Cuarón, Mark Sanger, Gravity
Christopher Rouse, Captain Phillips
Joe Walker, 12 Anni Schiavo
John MacMurphy, Dalls BuyersClub
Jay Cassidy, Crispin Struthers, American Hustle
 _________________________________
MIGLIOR FOTOGRAFIA
Emmanuel Lubezki, Gravity

Bruno Delbonnel, Inside Llewyn Davis
Philippe LeSourd, The Grandmaster
Roger Deakins, Prisoners
Phedon Papamichael, Nebraska
 _________________________________
MIGLIORI SCENOGRAFIE
Adam Stochausen & Alice Baker, 12 Anni Schiavo
Catherine Martin & Beverly Dunn, Il Grande Gatsby
Judy Becker & Heather Loeffler, American Hustle
Andy Nicholson & Rosie Goodwin, Gravity

K.K. Barrett & Gene Serdena, Her
_________________________________
MIGLIORI EFFETTI VISIVI
Gravity
The Hobbit: Desolation of Smaug

The Lone Ranger

Star Trek Into Darkness

Iron Man 3
_________________________________
MIGLIOR TRUCCO E PARRUCCO
The Lone Ranger
Jackass Presents: Bad Grandpa
Dallas Buyers Club
 _________________________________
MIGLIOR SONORO
Gravity
Captain Phillips

Inside Llewyn Davis

Lone Survivor
Lo Hobbit: La Desolazione di Smaug*
 _________________________________
MIGLIOR MONTAGGIO SONORO
Gravity

Captain Phillips

All Is Lost

Lone Survivor

The Hobbit: La Desolazione di Smaug
 _________________________________
MIGLIOR DOCUMENTARIO
"The Act of Killing" (Drafthouse Films) A Final Cut for Real Production
"Cutie and the Boxer" (RADiUS-TWC) An Ex Lion Tamer and Cine Mosaic Production
"Dirty Wars" (IFC Films) A Civic Bakery Production
"The Square" (Netflix in association with Worldview Entertainment and Participant Media) A Noujaim Films and Maktube Production
"20 Feet from Stardom" (RADiUS-TWC) A Gil Friesen Productions and Tremolo Production
 _________________________________
MIGLIOR CORTO DOCUMENTARIO
"CaveDigger" A Karoffilms Production
"Facing Fear" A Jason Cohen Production
"Karama Has No Walls" (Mudhouse Films) A Hot Spot Films Production
"The Lady in Number 6: Music Saved My Life" A Reed Entertainment Production
"Prison Terminal: The Last Days of Private Jack Hall" A Prison Terminal LLC Production
_________________________________
MIGLIOR CORTO ANIMATO
"Feral" A Daniel Sousa Production
"Get a Horse!" (Walt Disney) A Walt Disney Animation Production
"Mr. Hublot" A Zeilt Production
"Possessions" A Sunrise Production
"Room on the Broom" A Magic Light Pictures Production
_________________________________
MIGLIOR CORTOMETRAGGIO
"Aquel No Era Yo (That Wasn't Me)" (FREAK Independent Film Agency) A Producciones Africanauan Production
"Avant Que De Tout Perdre (Just before Losing Everything)" A KG Production
"Helium" An M & M Production
"Pitääkö Mun Kaikki Hoitaa? (Do I Have to Take Care of Everything?)" A Tuffi Films Production
"The Voorman Problem" A Honlodge Production
_______________________________________________________________________